Premium Hard-Anodized 3 1/2-qt Saucepan with Glass Lid Ninja™ Foodi™ NeverStick™
Ninja™ Foodi™ NeverStick™ Premium Cookware is the NeverStick cookware that never sticks, chips, or flakes. With a max manufacturing temperature of 30,000°F, our cookware won't rapidly lose nonstick like traditional nonstick pans made at 900°F can.
The NeverStick Cookware that WON'T stick, chip or flake.
Ninja Foodi NeverStick Cookware is created at a max temp of 30,000°F so it won't rapidly lose nonstick like traditional nonstick pots and pans can.
The difference is in the degrees.
Super-heated at 30,000°F, plasma ceramic particles are fused to the surface of the pan, creating a super-hard, textured surface that interlocks with our exclusive coating for a superior bond.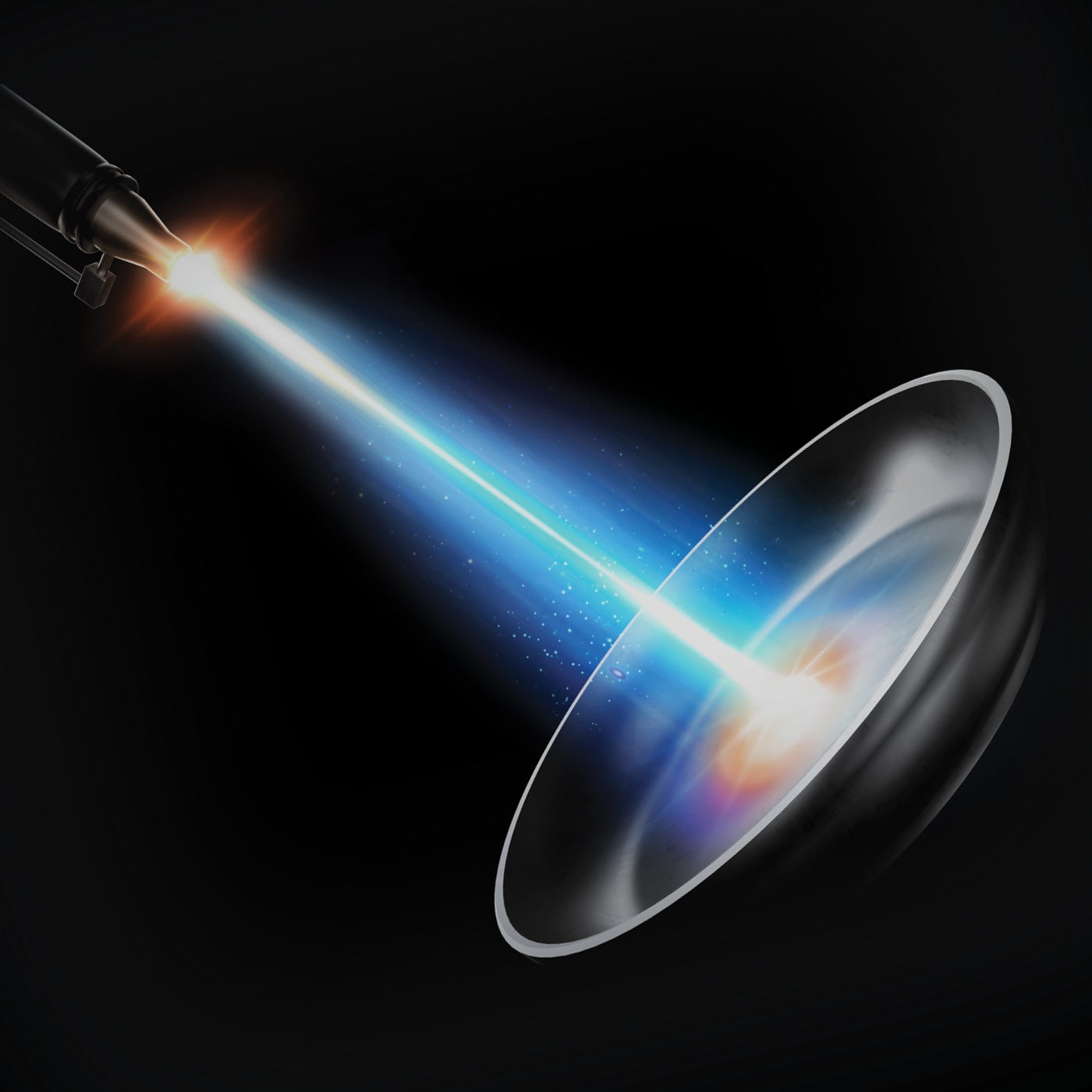 Pots and pans that are built to last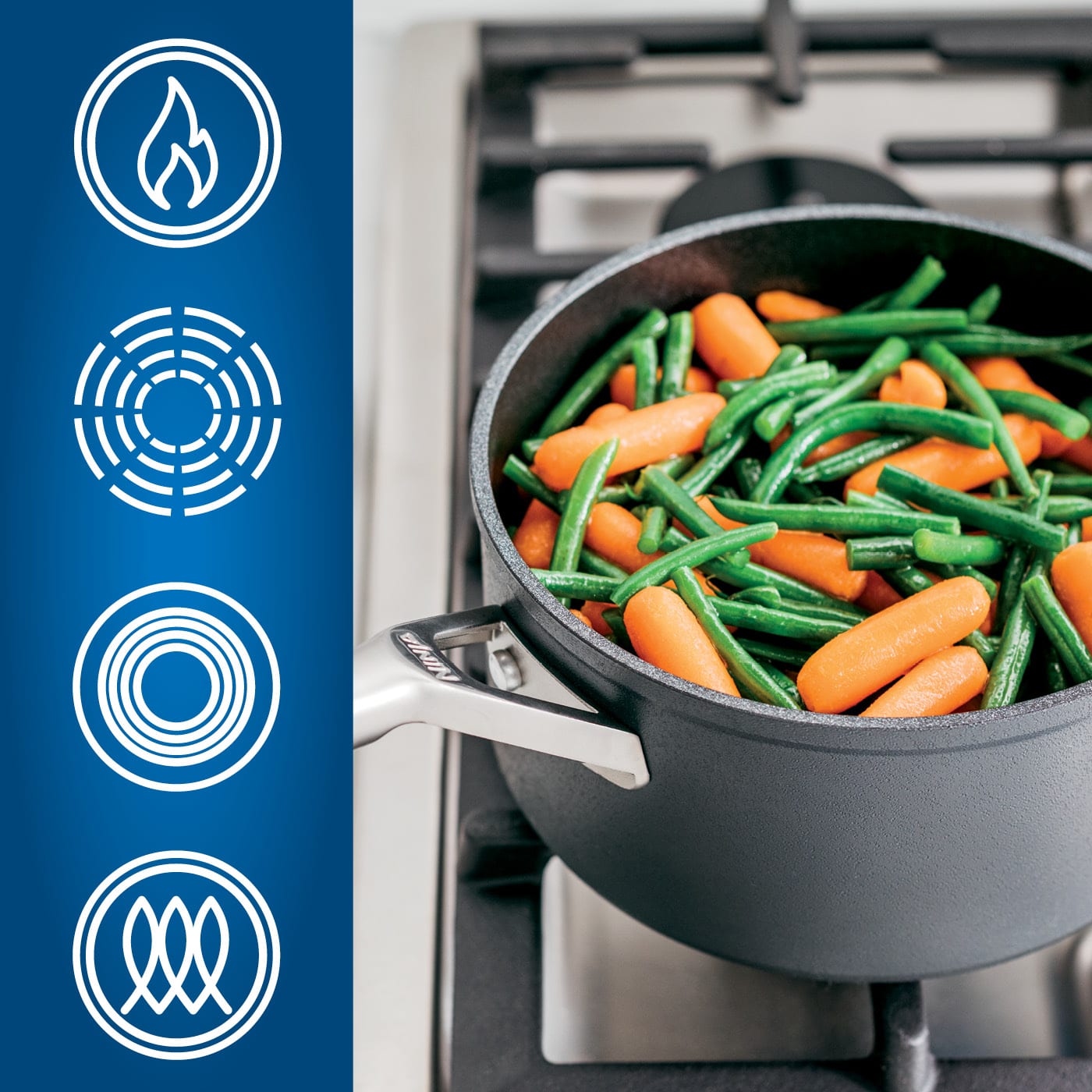 All range capable
With its stainless-steel induction plate, NeverStick cookware is compatible with gas, electric, glass ceramic, and induction stoves.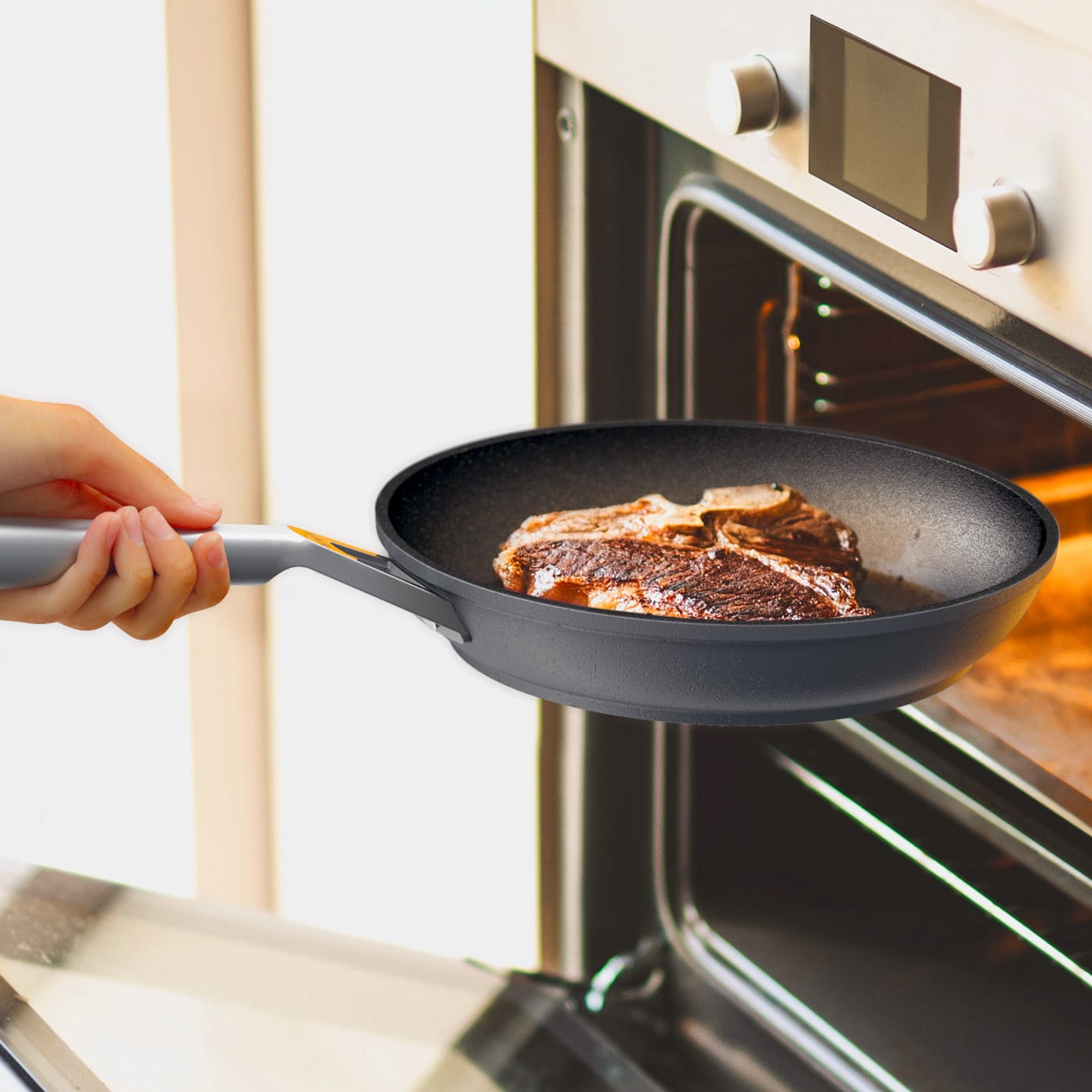 Oven safe to 500°F
With NeverStick pots and pans, you can start meals on the stove and finish them in the oven just like cast iron pans.
Even heat for perfect results
30% more aluminum than Ninja Foodi NeverStick C100 series provides improved heat retention and prevents burning.* *Versus Ninja Foodi NeverStick (C100 models)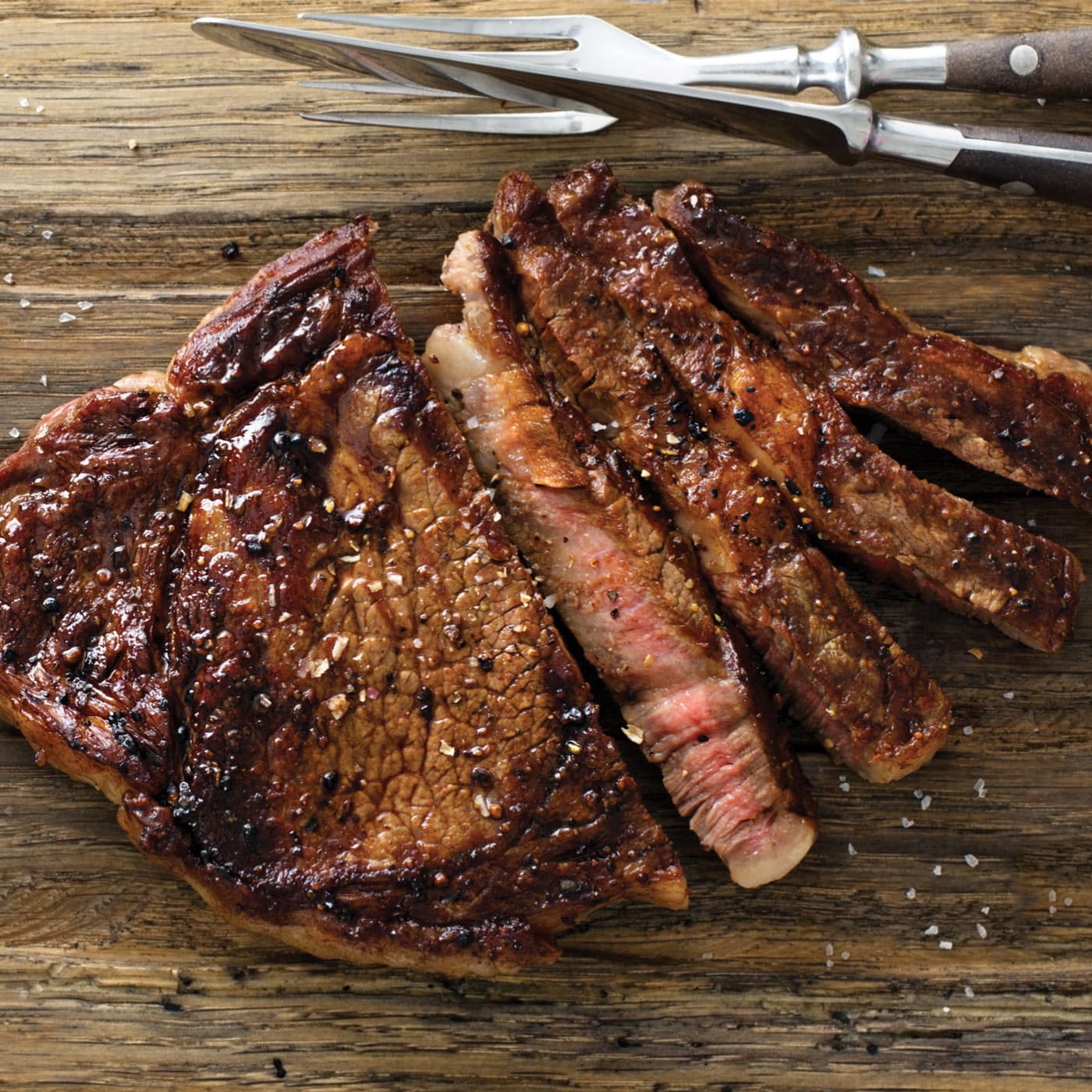 Sears like stainless steel
Get exceptional searing marks with no added oil or butter.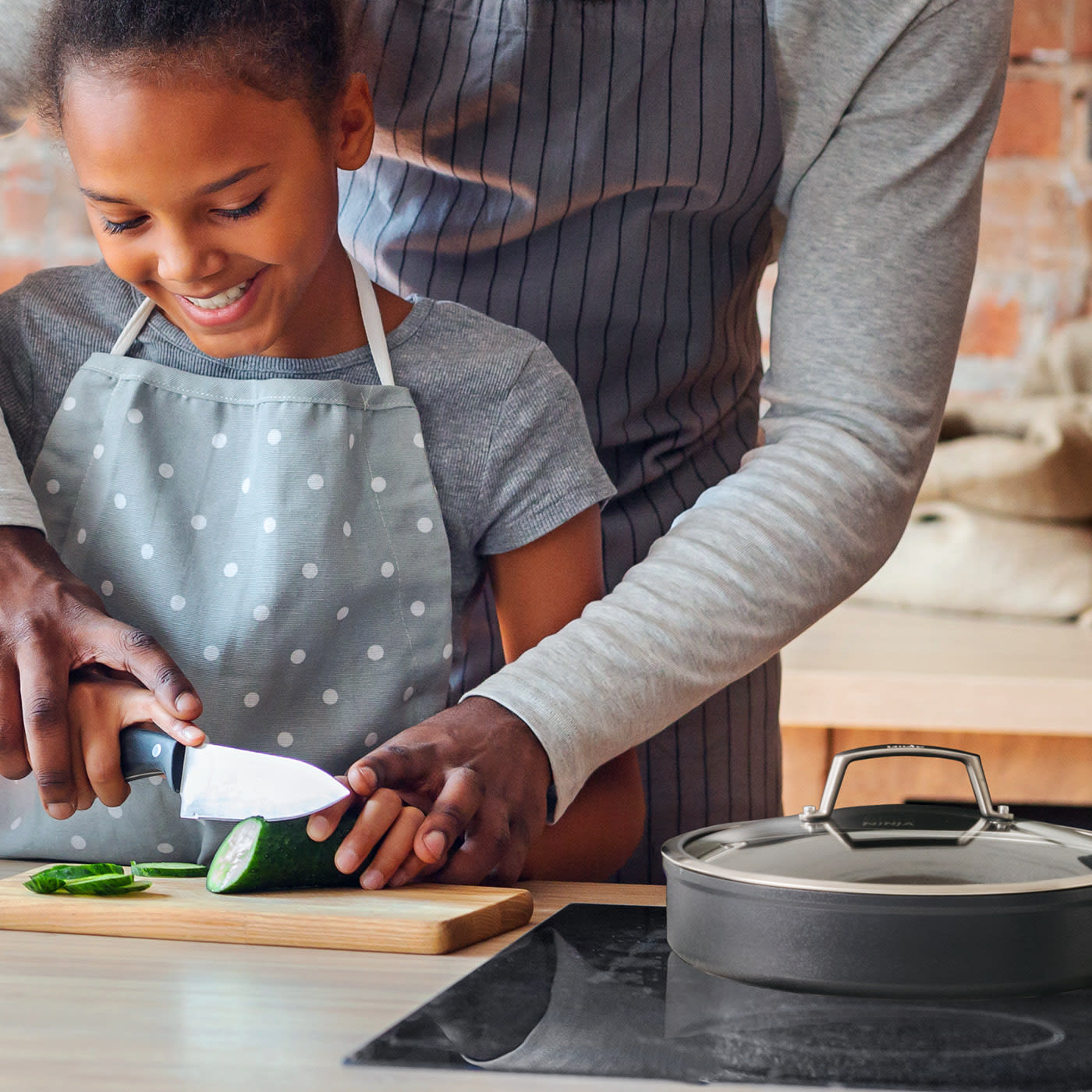 Cook with peace of mind
Free of PFOA, cadmium, and lead.
Dishwasher safe
Easy to clean by hand but also conveniently dishwasher safe so cleanup is always a breeze.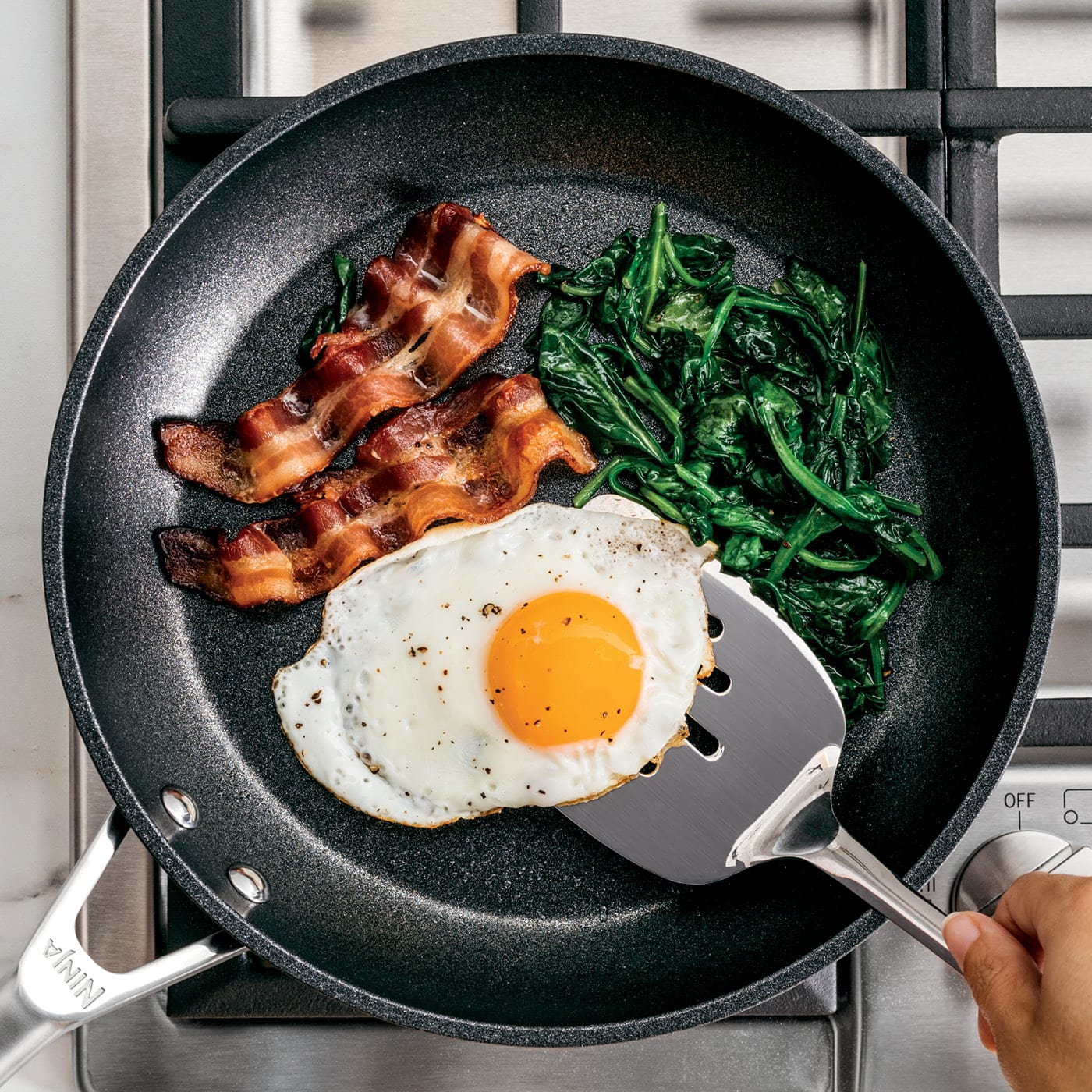 Metal-utensil safe surface
Our durable, textured cooking surface is designed to stand up to metal utensils like spoons, whisks, spatulas, and tongs.
Compatible with:

C39600, c39600b, C39600C, C39900
• Ninja™ Foodi™ NeverStick® Premium Cookware is the cookware that won't stick, chip, or flake. NeverStick cookware is created at a max temperature of 30,000°F. Traditional cookware is created at a max temperature of 900°F, so they can rapidly lose nonstick.
• NeverStick Technology ensures the extremely durable, textured Ninja exclusive nonstick coating is metal-utensil safe and enables excellent food release day after day without sticking.
• Lid, handles, and nonstick coating are all oven safe up to 500°F. Easily go from stovetop to oven to finish cooking meats, brown toppings, or bake like you can in cast iron.
• Premium, solid stainless steel handle allows for oven use up to 500°F and is ergonomically designed for comfort. Double-riveted for strength and maneuverability.
• Heavy-gauge 4.5 mm aluminum base for improved heat retention. Uniquely designed to distribute metal thickness throughout the pan to prevent hot-spots so food cooks quickly and evenly. 30% more aluminum than Ninja Foodi NeverStick C100 series.
• This premium cookware has an extremely durable shot-blasted, hard-anodized exterior that resists scratches like stainless steel.
• The sleek tempered glass lid has a 13-mm-thick stainless steel rim, prevents splatter, and locks in moisture while ensuring maximum visibility.
• Sear like you can in stainless steel. Plus sauté, shallow fry, boil, steam, deep fry, and braise. No need to cook with oil or butter.
• Designed to withstand high-heat cooking and aggressive scrubbing. Fully backed by the Ninja 10 Year Guarantee. *When used as directed.
• Dishwasher safe. Free of PFOA, cadmium, and lead. All range capable: gas, electric, glass ceramic, and induction.
| | |
| --- | --- |
| Compatability | Gas, Electric Coil, Ceramic, Glass and Induction |
| Oven Safe Temp | 500° F |
| Color | Slate Grey |
| Material | Pan: Aluminum, Handle: Stainless Steel |
| Warranty (years) | 10 |
| Product Dimensions | 15.25 in L x 8.25 in W x 6.5 in H |
| Dishwasher Safe | Yes |
| Weight | 3.4 lbs |
---
Free shipping on all orders over $75*.

Orders to be shipped to Hawaii, Alaska, territories outside of the contiguous 48 states, or an international address are subject to a $25 surcharge.


SharkNinja offers a 60-day money back guarantee or a 90-day money back guarantee on purchases for select products. The applicable money back guarantee will be stated with your order.

*See individual product offerings for details.
---
3 1/2-Quart Saucepan with Glass Lid
---
Are Ninja Foodi NeverStick pans really NeverStick?
When properly preheated, NeverStick Technology enables excellent food release without sticking. Our cookware is made with thicker-gauge aluminum so it may take longer to preheat than you are used to, but the result is a forgiving pan that cooks consistently time and time again.
What type of cooking surface will my pan work on?
Your Ninja™ Foodi™ NeverStick™ cookware is all range capable: gas, electric, glass ceramic, and induction.
What temperature should I use when cooking?
Use high heat for boiling liquids and searing. Never leave an empty pan on high for more than 2 or 3 minutes as this can damage the pan and lead to sticking. Use medium-high heat for sautéing, frying, and stir-frying. Use medium heat for reducing liquids and making pancakes, sandwiches, and omelets. Use low heat to warm foods, simmer ingredients, or prepare delicate sauces.
What types of utensils can I use in my pans?
All utensils are safe for use including metal. Metal utensils including spatulas, spoons, whisks, and tongs are safe for use with your Ninja™ Foodi™ NeverStick™ cookware. Never use sharp instruments such as knives or forks or appliances such as electric mixers to cut, chop, or whip foods in any nonstick pan. Such use will damage the nonstick finish and void the warranty.
What type of non-stick coating is used on the pans?
NeverStick cookware uses an exclusive PTFE-based coating that is PFOA and PFA free.
Is the nonstick coating safe?
Yes, our exclusive Ninja™ NeverStick™ coating is PFOA free and is FDA approved.
How long are the handles on the pans?
The handles will be either 7 or 8 inches long depending on the size of the pan.
How long is the warranty? What does the warranty cover?
Visit ninjawarranty.com to learn more about the NeverStick limited lifetime guarantee.
Do the handles get hot?
Our long handles on the frying pan and sauté pan are designed to be comfortable to hold and designed to stay cool when used on the stovetop. However, the short side handles on the stock pot and longer cooking times can lead to the handles getting warm and all handles will be hot when used in the oven.
---
Premium Hard-Anodized 3 1/2-qt Saucepan with Glass Lid Ninja™ Foodi™ NeverStick™